4000 11th Ave SE, Minot, ND 58701
Doing business with Souris River Storage is your best option for self-storage in Minot, Surrey, Sawyer, Burlington, and Norwich, ND for a number of reasons. Our prices put us ahead of our competitors, and our location is ideal for any customer. We offer self-storage units ranging from 5'x10' to 10'x30' to accommodate all manner of items that you might need to leave with us—whether you're storing furniture, clothes or personal items.
Whether you need a full-sized unit or you're seeking a smaller unit in Minot, ND, we have options that meet your demands for space. Full-size units are recommended for renters who have more/larger items to store, while mini storage is optimal for smaller items. We also have space available for boat and automobile storage.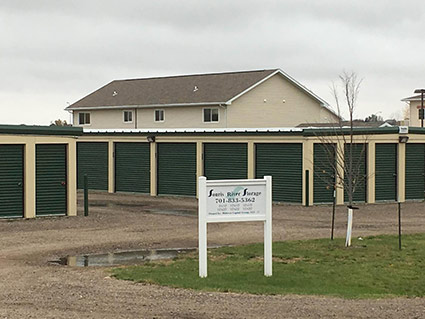 Our goal is to offer you the best option to store your belongings, without hassle. Customers can always give us a call for pricing on any of our self-storage units—we're happy to discuss availability and pricing based on your needs. No matter what it is you want to store with us, we have a space for you:
5′ x 10′ (Door Opening 40″ W x 7′ H)
10′ x 10′ (Door Opening 9′ W x 7′ H)
10′ x 15′ (Door Opening 9′ W x 7′ H)
10′ x 20′ (Door Opening 9′ W x 7′ H)
10′ x 30′ (Door Opening 9′ W x 7′ H)
12′ x 25′ (Door Opening 9′ W X 8′ H)
More than just providing you with the right size space, we're also dedicated to providing you with accessibility at all times. Our customers have 24/7 access to their self-storage units, with the peace of mind that comes with a fully-lit lot and security cameras. If you want to come in at 2 a.m. or 2 p.m., it's no problem for us!
Contact us today at 701-833-5362 and let Souris River Storage have the chance to meet all your mini storage needs. Ask us about our long-term or military discounts. We promise service with us guarantees customer satisfaction. From short-term, small-scale storage to long-term, full-sized accommodations, we're ready to serve you and your needs to the fullest.